5 Reasons Why You Can Trust Referral
To Restore Your Water Damage
---
1.) Experience
We are not rookies when it comes to water damage.  Since 1977, we have restored hundreds and hundreds of water losses. Choose Referral for your emergency needs!
2.) Training / Knowledge
There is a BIG difference between a 'carpet cleaner' and a water damage restoration specialist. There are a lot of guys out there with trucks or shop vacs who can extract the water.  Truthfully the carpet is just the tip of the iceberg.  Referral has invested in several hands-on drying schools, staying up to date with the latest heat drying techniques and earning certifications from the IICRC – Institute of Inspection, Cleaning & Restoration Certification in Water Damage Restoration and Applied Structural Drying.  In these schools we flooded our classroom and during the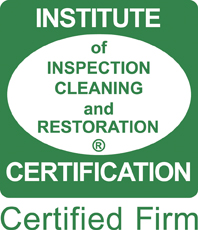 week we learned how to dry the structure, walls and contents to pre-loss condition. We learned how to use and interpret results of our moisture meters. The science of drying, which was the main focus of the training, includes psychometrics, dew point, airflow, saturation, grains of moisture, temperature, evaporation, humidity and atmospheric conditions. We understand how and why things dry. We learned different drying techniques for different situations. This allows us to save and restore your home and contents if they are salvageable instead of removing, demolishing and rebuilding affected areas.
Click Images To Learn More!
3.) Service
As a local, family owned business, homeowners trust us with restoring their home and possessions to pre-loss condition. Referral has built a reputation on top notch service.  From start to finish we pride ourselves in how fast we restore water damage, returning life back to normal.  Since water damage is never expected we quickly respond to emergencies 24/7.  We offer water damage prevention tips to help you prevent water damage in the future.  We provide personalized service to each and every client. We will work with your insurance company and will help you walk through the whole restoration process from water extraction, drying, necessary repairs or replacements and cleaning so your life can get back to normal as soon as possible.
All Restoration Companies Are Not The Same!  Watch this video to see how a national franchise restoration company in Fort Wayne handled a flooded basement.

Don't take our word for it… Listen to these Fort Wayne Residents who have used Referral for flood / water damage restoration, or view on our YouTube Channel.
"We can't thank you enough for the prompt and excellent service you gave us. The carpet looks great! After seeing 6 inches of muddy water in my house, I would never have believed the carpet could be saved. Thanks again for your excellent service. I would highly recommend Referral Cleaning and Restoration any time." – Ms. Corell – Fort Wayne, IN
"We appreciate the special attention received during our flooding experience." – Mr. and Mrs. Butler – Fort Wayne, IN
"After having water damage we were very thankful for the late night prompt service and the reassurance." – Mr. Roach – Fort Wayne, IN
"Referral was very helpful when our basement flooded. They offered professional advice without a promise of a job. This was beyond the call of duty and was very much appreciated." – Mr. & Mrs. Wilhelm – Fort Wayne, IN
"Our sump pump broke which resulted in our basement flooding. Referral carpet cleaning has done an excellent job of cleaning our carpet in the past, so naturally they were the only company I wanted to do our water damage clean up. They arrived promptly after my distressed phone call and immediately got to work. I cannot say enough about how polite, friendly and professional their technicians are! They helped us move our furniture / belongings and did an excellent job of extracting the flood water from the carpet and getting it dry, as well as cleaning and deodorizing the carpet a few days later. I would highly recommend Referral if you are ever faced with this type of disaster in your home!" – Mrs. Shinabery – Fort Wayne, IN
We have referred Referral Cleaning & Restoration to several clients for water damage repair and have had great experiences with them.  We will now refer their website to our client as well as it offers handy tips for water damage prevention and a step by step guide into what the client can expect when it's time for clean up.  –  Myers & Hayden Insurance
4.) Tools
Proper tools are essential to water damage restoration.  Referral is equiped to handle your water damage.  We have a box truck ready to roll, a warehouse with an inventory of 220 Air Movers, 25 Dehumidifiers and other specialized drying equipment that is capable of drying floors, walls and the structure.  Our moisture detection meters and infrared thermal imaging cameras allow us to do a thorough inspection so we know what is wet, if it is drying, and when it is dry.
---
5.) We Are Restoration Focused
We do not unnecessarily tear out and replace costly materials that can be dried.  This saves you money and returns your life back to normal in days instead of weeks or even months.
---
If you experience emergency flood / water damage in Fort Wayne home call Referral Cleaning & Restoration 24/7 for immediate response at 260-483-4383.