Unbelievable Spots & Stains Are Removed By Referral For Fort Wayne Residents
---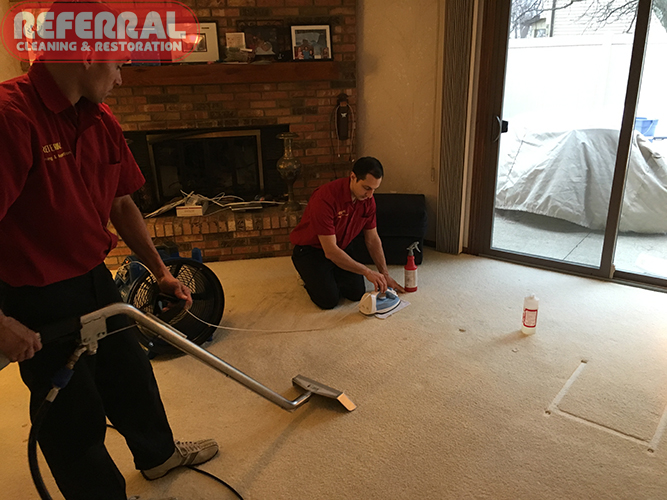 Combined experience, training and spotting products make it possible for us to remove many spots and stains even if they have been there for years.  Pricing for specialty spotting is based upon severity, condition, and time required for removing the stain.
---
Air Filtration Lines
Click here to learn more about air filtration lines, what causes them, how to prevent them and how Referral can remove them.
---
Blood
---
Candle Wax
Candle wax can be removed from carpet because of the high temperature of our cleaning solution or if very thick another method using steam/heat.  Many times the color of the wax will be removed with the wax but sometimes the wax will be removed and the carpet fibers will still be stain whatever color the wax was.  If so we may be able to remove the color.
---
Coffee / Tea
Coffee / Tea may or may not clean out with just a simple cleaning, depending on the type of carpet fiber.  If it does not simply clean out we have a special stain removal solution we can apply to it that may cause it to disappear as it dries overnight.
---
Food / Drink Spills
---
Fingernail Polish
Fingernail Polish spills can be challenging to remove.  A solvent is used to break down the polish along with another product to prevent the color from spreading as it's dissolved.  Finally the spot is rinsed.
---
Furniture Dents
Furniture placed on carpet can cause indentations.  After cleaning these indentation usually improve or disappear from nylon carpet, wool or cotton fibers.  If the indentations are on polyester or olefin fibers they may be permanent since these fibers are not resilient and tend to mat down.  Moisture helps relax the fibers and causes them to spring back.  A wives tale is to place an ice cube on the dent, however this could leave a water stain if left too wet.  Our hot water extraction method will moisten the fiber without over wetting it.  If the furniture was extremely heavy or had very small pointed legs the fibers may spring back but the backing may be stretched out.
---
Furniture Stain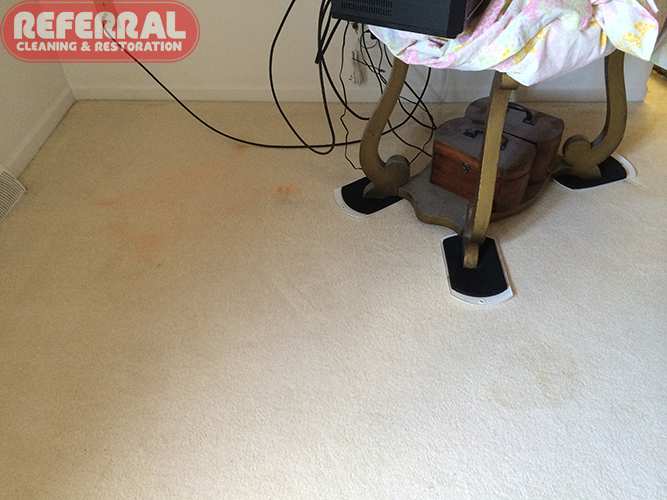 Furniture Stain on carpet is usually permanent and will not clean out. For more information on permanent stains visit our repairable conditions page.
---
Grease / Oil
---
Gum
A solvent is needed to dissolve gum, it is agitated to break it up and then it is rinsed out.  Caution must be used to prevent over application so the carpet backing does not delaminate.
---
Lipstick
---
Ink / Marker
Ink and Marker spotting can be challenging to remove on your own.  You could actually make it worse by spreading the ink!  Referral has a solvent to dissolve the ink and another solution to prevent the spread of the ink when it is dissolved allowing it to be rinsed out.
---
Mildew
---
Mortar
---
Paint
Paint can be challenging and time consuming to remove depending on if it is water or oil based and if it is 100% dry.  A solvent is used to dissolve the paint and then it is rinsed out.
"Referral's Technicians came to our house at 6:30 pm to clean up a spill of red paint on our tan carpet.  They were reassuring and so nice.  After cleaning the carpet looks like new and there is not a hint of red paint!" – Mrs. Carpenter.
---
Pet Urine / Feces Spots
Pet Urine Spots may or may not clean out depending on the type of carpet fiber.  If there is a yellow or brown stain left behind we have a specialized stain remover that may remove it as it dries.  Click here to learn more about pet stain removal. 
---
Red Stain (Such As Kool Aid, Red Dye and Jello)
Red spotting or any colored stains caused by a synthetic dye such as Kool Aid, Red Dye in pet food, Jello, Medicine,
---
Rust
---
Spots From DIY Machine
---
Water Stain (From Flood)
---
Water Stain (From Over Watering Plant)
---
Wine