Why Trust Referral To Clean Your
Carpet In Fort Wayne?
---
Experience – We're not rookies, we've been cleaning since 1977 and during that time we have cleaned in tens of thousands of Fort Wayne homes.
Mr. & Mrs. Kline – We love Referral and have been customers since 1985.
Terry Auld – Every time Referral has cleaned our carpets they look great. I have used their services for over 20 years.
---
Reputation – Since 1977 referrals have built our business, in fact 85% of our business comes from repeat clients and referrals who love our services!   Referral is recommended by the area's most reputable carpet stores, flooring professionals, interior designers, realtors and dry cleaners.  They take no chances when recommending a company, they recommend Referral whom they know they can count on to satisfy their client by doing quality work.  Referral has been a member of the Better Business Bureau since 1982 with an excellent record, click here to review our BBB record.  Referral has won Angies List Super Service Award.  Referral was a winner of Fort Wayne Newspapers Readers Choice Award.  Referral is a member of Ethical Services.  You can also watch video testimonials on You Tube or explore reviews on Google, Yelp or Facebook.
---
Trust In The Privacy Of Your Home.  Referral is a local, family owned and operated business you can trust in the privacy of your home.
Mrs. Brandt – I appreciate a local, family managed business and consistency of who cleans!
Mr. and Mrs. Pittner – As always, we can leave the house and trust your people to do a great job.
Mrs. Probst – I appreciate being able to trust you in my home when I am not home and being able to leave a blank check for you to fill out when finished.
Mary Ann Oberholtzer – I was 'referred' to Referral by my next door neighbor. After 14 years we both still use your company. In that time I've only seen your operators a few times as I trust them enough to leave a key and blank check while I'm at work. Now that says something!
---
Professional Image –  Our technicians are uniformed, clean cut and well groomed.  Our equipment and trucks are taken care of, clean and professionally lettered.  Our professional appearance will make you feel at ease.
Mr. & Mrs. Cornwell – Both men were so well dressed and clean! How they look should not have mattered however their clean cut appearance made it very comfortable to have them in my home. I love family owned businesses.
Mr. & Mrs. Bruick -I have already told people you define the word "professional." Your company saved our carpet and gave us a peace of mind. You took your time and produced a flawless carpet!
Mrs. Lankenau -They are very professional, friendly and perfection oriented.
---
Education / Certification – Referral is an IICRC Certified Firm (Institute of Inspection, Cleaning and Restoration Certification) and CRI Approved Service Provider (Carpet & Rug Institute)  We are dedicated to learning so we can offer the best service possible because "You Can't Outperform Your Knowledge".  Referral invests in classroom training, certification testing, hands on workshops and continuing education to stay up to date with changes in our industry.  Carpet Manufactures require use of firms certified by the IICRC and CRI to maintain the warranty of their products. Click here to learn more about manufactures cleaning recommendations.
Mrs. Todd – You seem more knowledgeable with different carpet fibers and care of each.
Mrs. Keller – I was also impressed with the knowledge that Alan and Ryan had. They did not belittle me because I did not know much about carpet. They are truly experts.
Mr. Kidd – You are knowledgeable and you seem to really know carpet. The technicians seem better trained to identify, treat, and instruct how to care for carpet.
---
Convenient Scheduling.  Our telephone representative listens to your needs and schedules you as quickly as possible and at a time that's convenient for you. We go out of our way to accommodate same day, short notices or emergencies for our clients. We always call you when we are headed to your home.
Mrs. Probst -You always try to work me into your schedule as soon as possible.
Charlene Winebrenner – Our company had clients coming in from out of state and Referral was able to accommodate us that very day so the offices looked great for a meeting the next day.
Mr. Claypool – Referral is easy to do business with, easy to schedule to fit our needs and reasonably priced.
---
Personal, Friendly Service. As a small family owned and operated business we value each of our clients.  We work hard to build a lasting relationship with every client and strive to exceed your expectations so you will be a client for life.
Mrs. Eley – You made us feel very comfortable. Referral made us feel like we were more than just a customer, they treated us like we were their friends.
Cody Smith – The customer service is outstanding. The service is efficient and friendly. Everything's great!
---
Careful – We treat your home as it were our own.  We are careful with our tools, hoses and equipment while working in your home.  We use corner guards to prevent our hoses from damaging your walls.  Floor protectors are placed over wood/ tile areas we aren't cleaning so they don't get tracked up.  Furniture sliders are used to minimize the chance of damage while moving furniture.  We use a hand tool along edges of walls and furniture to prevent damage.
Mrs. Knuckles – Referral is so far superior. Referral was careful not to mark up my walls, woodwork or furniture. It was a rainy day and he left no marks on my wood entry floor. Thank you.
Mr. Dickmeyer – All the wall corners have guards placed on them to keep their hoses from damaging them.  Even a cloth cover is put on the door to keep the air in the house. 
Mr. Josse – The furniture was carefully moved and replaced.  You even gave us a sign that we could place in the doorway warning that the floor could be slippery.   
Mr. & Mrs. Frank – Careful approach to work and house was observed.  Thank you for treating our home as if it was your very own home! 
---
Professional Equipment / Tools – We invested in the best truck mounted equipment to get your carpet as clean and dry as possible.  It generates high pressure, hot water, and strong vacuum, all key elements in cleaning carpet.  Since the system is truckmounted, the machinery and noise doesn't come into your home, just our tools and hoses. We have a 110 gallon fresh water tank and a separate 110 gallon waste water recovery tank. Vacuum and solution line reels are mounted in the truck with enough hose to reach 175 feet. Some truckmounts are "slide in's" which are powered by a separate motor and do not have as much power as our truckmount equipment which is Direct Drive / PTO (Power Take Off) powered from the van engine.  It generates over 200 degree water, strong vacuum, safe water pressure and injects cleaning solution into our water. The truckmount machine exhausts outside, not inside your home like a portable.  You're getting short changed if anything other than truck-mounted equipment is used for residential carpet cleaning.
Mrs. Phillips – I will never have anyone else clean my carpets! They are a family owned business and really take a lot of time and have high tech equipment and cleaners.
Mr. Rich – I was very pleased with your cleaning. You are professionals who take pride in doing an excellent job. You have the proper equipment and the know how to handle any cleaning requirements.
---
Hot Water Extraction Method — Choosing the proper carpet cleaning method is important because they don't all produce the same results.  Referrals uses the hot water extraction method (also known as steam cleaning) from a truck mounted unit, which is the recommendation of carpet manufacturers. Click here to learn more about carpet manufacturers cleaning recommendations.  Some homeowners have misconceptions or have had bad experiences using this method.  It can be the worst way if done wrong, but if done correctly it is the best.  Learn more about different cleaning methods by clicking here.
---
Detailed & Particular – Referral caters to even fussy clients, who are very particular, with higher expectations. We are meticulous.  The difference between a rookie and a professional is often in the details.  At Referral "We Don't Cut Corners, We Clean Them!" Once the main area is cleaned with our floor tool, we get on our hands and knees to clean all the edges, corners, tight areas and along furniture that could not be moved.
Mary Ellen Neuenschwander -I am a very particular person so if you made me happy, I know that others would be pleased with you.
Mr. & Mrs. Mauk – You treated every area with care and attention to detail. It is nice to have someone come into our home who treats it like it were his own.
Lynn & Jan Lipp – I am a neat freak, that's what my husband calls me. Alan and Ryan cared for my home the way I do. They protected my walls and woodwork while cleaning our carpet to perfection.  They actually got down on their hands and knees in the tight areas and along the woodwork. WOW!
---
We Never Rush Our Work! Our high quality workmanship is evident in the time we take to thoroughly perform our services. Even with the proper equipment and cleaning solutions your carpet may still not be clean if the technician has a poor cleaning technique or zooms over it because they are in a hurry.  Some companies may 'clean' your carpet faster than you can vacuum it.  Referral's cleaning technique separates us. We take as many cleaning strokes as needed to remove as much dirt as possible, ensure spots don't return and leave it as dry as possible. We do not "scrub" your carpet, which can result in over wetting.  Even if we are running late for some reason or it is late in the evening we will not rush our work to get somewhere else on time.  We will spend the time to do the job right and call the next client to give them an updated arrival time.
Mrs. Schweizer – Referral does a great job. They are never in a hurry to get the job done. They are there taking their time being particular and getting the job done the right way.
Mrs. Keplinger – Referral is different from other carpet cleaners because of the time they put into cleaning the carpet. They spend over 75% longer than any other carpet cleaner and the carpet is not soaking wet when they are done.
Ms. Clabaugh – Referral actually works at removing problem areas.  They care about what they do and aren't just in a hurry to get out and on their way to the next job.  
---
Expert Spot Removal.  Not all companies are successful at removing spots.   Sometime spots return after drying and can be caused from 1) quickly cleaning over the surface, 2) not performing enough cleaning/vacuum passes to ensure deep down cleaning, 3) the spot was not pre-treated with a neutralizer. The result is spots wick back in a day or two. Referral has advanced training and techniques to remove challenging stains and make sure they don't come back.  Anything from Kool-Aid, Gum, Tar, Wax, Grease, Paint, Air Filtration Marks, Red Wine, and Pet Urine stains can be removed.
Mrs. McCleskey – I walked in my home and literally stood there saying "Wow, its beautiful!" Stains not removed by other companies were now gone.
Mrs. Phillips – I had spots on my carpet that were VERY bad and I thought I was going to have to replace the carpet. I had two other companies come and clean and they were never able to get them out (they came back both times) I called Referral and they came out and cleaned and the spots have never come back. My carpet looks like new again.
Mrs. Cole – After Referral cleaned it we had no returning spots and the new spots clean up and stay gone.
---
Safe Cleaning Solutions — We use cleaning agents that are safe for kids, pets, allergy suffers and the environment. We also bring our own pre-softened water, which cleans better.
Mrs. Worrell – They took the time to do a great job, using their own water and provided fans to help dry the rooms.
Mrs. Kildaski – The folks at Referral provide excellent service, prompt and courteous, efficient and very effective. They also provide useful information about how to maintain that level of cleanliness. Their special attention to allergy and health concerns is greatly appreciated.
---
No Dirt Attracting Residue —  Our effective professional grade cleaning solutions do not leave a dirt-attracting residue which results in a long lasting clean.
Mrs. McCulloch -Referral does excellent work and they get all the stains out. The cleaning process doesn't attract dirt later.
Mrs. Phillips – My carpets look beautiful and most important to me continue to look beautiful! 
---
Honest Square Foot Pricing –  Instead of pricing by the room, we price by the amount of square feet cleaned. It is a honest, uniform rate and you only pay for what is cleaned.  Click here to learn how to figure your approximate square footage.
---

Fast Drying —  Many carpet cleaners leave carpet unusually wet, perhaps taking days to dry.  Our clients love how fast their carpet dries so their home can return to normal use as soon as possible.  There are several important aspects Referral gives attention to prevent over wetting and ensure fast drying: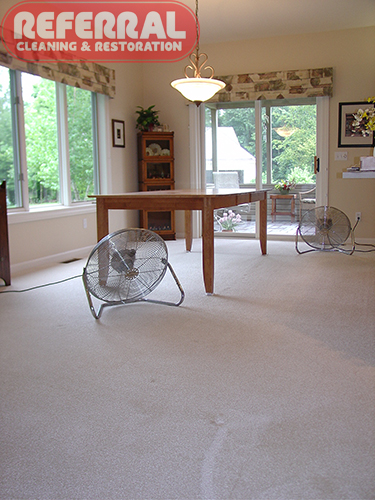 Our truckmount equipment is powerful and generates strong vacuum suction.
We adjust our cleaning pressure to prevent over wetting.
We properly maintain our equipment to ensure it works at peak performance and use a clean inline vacuum filter at every job for strong vacuum suction.
We only pull the solution trigger while cleaning in one direction so we do not over wet the carpet, backing or pad.  Some companies 'scrub' or don't let off the solution trigger because it speeds up the work,  but it can result in overwettting the carpet.
After cleaning we do extra vacuum passes to extract as much cleaning solution as possible.
We use our high speed fans while on site.
We give you tips for fast drying and help adjust your homes thermostat, fan and humidifier to create an environment for fast drying.
Mrs. Tyler -There is no worry about wetness. Previously we used a dry cleaner because we were worried about over wetting carpets and padding. Referral left our carpets looking beautiful and almost dry.
Mrs. Phillips – Other cleaning companies left my carpet soaked and it took days to dry, not Referral!
Rachel R – The carpet doesn't feel saturated after cleaning. The carpets are thoroughly clean and dry in a few hours.
Mr. & Mrs. Critchfield – Fans were used to hasten drying. This was superior to any other company we have used in the past. Keep doing what you are doing!
---
Helpful Information and Advice At No Extra Charge!  After every cleaning we leave you a complimentary bottle of  Spot Out, a safe and effective spotter.  You also have 24 hour access to a spotting guide and care tips on our web site. Just another added value of our service.
Mr. & Mrs. Fruchey – They answered all my questions and gave me some great tips for future carpet problems.
Mrs. McCleskey – My expectations were far exceeded. I even received written information on care of my carpet while it dried and general care information.
Mr. & Mrs. Steele – Alan told me the proper way to spot clean and which products to use.
Mrs. Rorick – The follow up information was a first for me. No other cleaner wanted any feedback. I appreciated the Thank You letter, tips on drying the carpet and the paper on 12 ways to keep the carpet clean.
Mrs. Grieb – Referral differs from other carpet cleaning companies through their industry knowledge and willingness to educate their customers on how to care for their carpets.
---
No High Pressure, Pushy Sales.  Some companies pay technicians 100% commission which may cause them to rush or use high pressure sales so they can make a decent living. Some companies may 'bait and switch' Baiting you to call with a low price, only to switch it to a higher price once they are in your home.  Referral's technicians are not paid 100% commission, they are paid a hourly rate plus a bonus for good performance which takes the pressure off the technician.  They can focus on providing the proper amount of time and effort to each clients concerns.
Mrs. Worrell – The technician was not a salesman and did not try to push any products or extra services.
Mrs. Dougan – I especially appreciated not having to deal with a high pressure salesman. Thank you so much!
---
Value – Get the most value for your money. Some people know the price of everything, but the value of nothing. Price is what you pay. Value is what you get. In the carpet cleaning industry, prices are across the board and so is the quality of work.  Companies know what value or price they are worth. How can you receive value if an inexperienced, commission incentivized operator zooms through your job, leaving your carpet soaked, with most spots reappearing the next day? This is a common complaint. You'll be frustrated, see your hard earned money wasted, your time lost, and the life span of your carpet shortened.
Mr. and Mrs. Art – People said I could have paid less elsewhere, but I was too impressed with your overall quality!
Mr. & Mrs. Mauk – Although your price may be a bit higher…this is one of those cases where you really feel like you have received a bargain.
Mrs. Richmond – I was really happy with how my carpets looked afterwards! You cost more than others but you get what you pay for. My carpets looked new when you were done. I had people ask me if I got new carpet.
Mr. Johnston – You are expensive but very good. Our carpets are cleaner than any prior cleaner was able to get them.
Mr. Coffee – They may cost more than other companies but it is worth the money.
---
Iron-Clad 100% Satisfaction Guarantee –  These days, being skeptical is more common than ever with good reason. Consumers are sick of false claims, bogus offers, hyped up products that sound great in advertising but fall short of their promises. Beware, many companies advertise they guarantee their work, which may lure a customer into thinking that they do good work. However, many clients have stated they were so dissatisfied with the company and cleaning, they would not allow the company back in their home to correct the problem. A guarantee is only as good as the company that stands behind it. If your cleaning company doesn't have a track record that says they'll be available today, tomorrow and more importantly next year, you're being shortchanged. Referral has built a reputation of quality work and today 85% of our business comes from repeat clients and referrals who love our services! Because we want 100% satisfaction and take pride in our reputation we will let you know up front what we can and cannot promise. Referral backs up their work 100%. Referral wants complete satisfaction and our job is not completed unless you are satisfied. We will let you know up front what we can, and in specific unusual situations, what we cannot promise. We will review the final results of our work before departing your home. We leave a feedback form after every job that you can return by mail or complete online. We follow up after cleaning with quality assurance telephone call to ensure your satisfaction. If for any reason we need to correct anything that was promised or expected, we will promptly return with no hassles to make it right. What could be more fair? It's the right way to do business.
Mrs. Thompson – I've used several carpet cleaners over the years and Referral Carpet Cleaning is by far the most superior and professional. I give them a 10 out of 10. I can't think of anything you could do to provide better service.
Mrs. Needham – I appreciated the call after cleaning to assure that I was satisfied.
---
Confidence To Refer Friends To A Company They Will Love. We will even reward you for your efforts with our Referral Rewards Program!
Mr. and Mrs. Hogan – I'm now a regular Referral customer. The best thing in the entire city. I've already told 10 people! Thank you.
Mrs. Odem – Anytime someone talks about carpet cleaning, I always recommend you. Thank you again.
Mrs. Waterhouse – I am telling all my friends to use Referral.
---
Outstanding Experience – Every step of your experience with Referral will be outstanding.  From the initial call, you should expect a courteous and helpful office staff. Their vans should be clean and professionally lettered. Uniformed technicians should be well groomed, polite, friendly, honest and trustworthy.  Technicians should respect your home and furnishings, provide meticulous workmanship, never rush, and take pride in their work. Technicians should never high pressure sell, but instead offer suggestions and solutions to choose from. We are proud to state that our clients feel Referral stands head and shoulders above our competition in these areas.
Mrs. Beck – Oh my gosh! You won't believe them until you see them! Words
almost can't explain it. There is no comparison between Referral and other
cleaning companies.
Mrs. Palmer – Referral is the Best carpet cleaning company in Fort Wayne.
Mrs. Keplinger – When I want it done right, Referral is the only place I will use.
Mrs. Knuckles – I have had other carpet cleaners in my house and now realize
after I had Referral Carpet Cleaning, that I never really had clean carpets. They
actually clean 10 times more than "other" carpet cleaners. You cannot even
compare them to other carpet services. Referral is so far superior.