What Is The Best Carpet Cleaning Method?
---
Choosing the proper carpet cleaning method is important because they don't all produce the same results.  We will explain the differences of each.  There are two primary types of cleaning – Low moisture aka dry cleaning methods and the hot water extraction aka steam cleaning method.  Many people believe that dry cleaning your carpet is like dry cleaning you clothing. It's not the same. All carpet cleaning methods use some water in one form or another.  Here are the five types of low moisture / dry cleaning carpet:
Absorbent Compound — Sprinkle a powder on your carpet, brush it in, then vacuum it up.   This method may be beneficial for reoccurring spots because of the low moisture and fast drying.  However no real rinsing/extraction has taken place so it's cleaning ability can be limited.  Host & Capture are examples of products that use this method.
Dry Foam — Foam is dispensed on the carpet using a brush.  The brush will work the foam through the carpet.  Once it has dried, the carpet is then thoroughly vacuumed to remove the dried crystals of dirt that have been left behind.   Can you imagine applying shampoo to your hair, allowing it to dry and then removing the shampoo from your head with a vacuum?  This method can leave a residue in your carpet, which is one reason dry foam is not very effective.  A Von Schrader machine is a machine that uses this method.
Absorbent Pad / Bonnet Cleaning —   These systems employ a rotating bonnet of terry cloth or other absorbent material to agitate the carpet pile and absorb soil. A detergent solution is sprayed onto the pile and then worked with the bonnet attached to a rotary floor polisher. The Bonnet system has very limited capability for soil removal and leaves much of the detergent in the pile since it employs no real extraction. As a result, rapid re-soiling often occurs. Another disadvantage is that the spinning bonnet may distort the fibers of cut pile carpet, fuzz the pile, and leave distinct swirl marks.  Shaw Industries does not recommend Bonnet cleaning systems.  Chem Dry is an example of a company that uses Bonnet Cleaning.
Rotary Shampoo — Wet shampoo cleaning with rotary machines followed by a wet vacuuming was widespread until about the 1970's.  Many of the shampoos were true soaps that left a sticky residue.  No rinse was performed which lead to rapid resoiling.  This is where the common misconception that cleaning carpet causes it to get dirty faster after the cleaning.  This method is used by  very few carpet cleaners today.
Encapsulation — Similar to Rotary Shampoo however advances in chemistry using polymers, allow shampoo residues to truly encapsulate remaining soils by forming a distinct crystal when it dries.   This crystal is not sticky or dirt attracting so the carpet stays cleaner longer.  Rather it is extracted from the carpet at the next regular vacuuming.  Because of the rotary agitation this method is usually not recommended for residential carpet but has great results on a commercial carpet.  Click here to learn more about Encapsulation Carpet Cleaning
Hot Water Extraction / Steam Cleaning — Hot Water Extraction provides the best capability for cleaning. This system is commonly referred to as "steam cleaning," although no steam is actually generated. This process consists of spraying a hot water cleaning solution into the carpet pile and recovering the water and soil with a powerful vacuum into a holding tank.  This method can be done using an electric portable machine or a high powered truckmount machine with only the hose and cleaning tools brought inside.  If truckmounted the dirty air and humidity are exhausted outside.  Many companies use this method but there is a difference in the final results depending on the equipment, cleaning solutions and cleaning technique.  Click here to learn what makes Referral unique and why you can trust them to clean your carpet.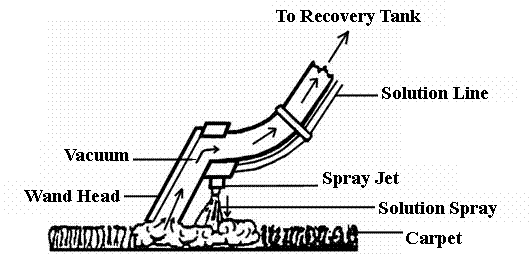 Shaw warranties require that the homeowner be able to show proof of periodic cleaning, in a typical household carpet should be cleaned every 12 to 18 months, depending on the number of residents and amount of activity using the hot water extraction method (commonly called "steam" cleaning) by a professional cleaning service or do-it-yourself system, using equipment that is certified under the Carpet and Rug Institute's Seal of Approval program. Click here to see what cleaning method your carpet manufacturer recommends.

Many homeowners have heard horror stories about their carpet getting dirty faster after cleaning from residue, being ruined, shrinking or growing mold after it was cleaned. These things are just myths due to improper cleaning techniques. Referral has the training, knowledge and skill to provide you with an most outstanding cleaning and restoration experience ever.