Full-Time Cleaning & Restoration Technician
NOW HIRING in Fort Wayne!
---
See All Of The Details About Being A Technician At Referral In This 3 Minute Video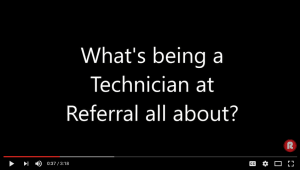 ---
Why Should You Work At Referral?
Referral Cleaning & Restoration is seeking a Full-Time Cleaning & Restoration Technician to join our very busy family-owned and operated business immediately! Our busy season is just around the corner. At Referral, you will never have to worry about not having enough work. We have built our business around repeat and referral clients – in fact, over 80% of our work is such! Your position on the team will be secure as long as you perform our easy minimum requirements. At Referral, you will know exactly what is expected of you. We will show you our company organizational structure and help you prepare for promotion, so you can plan your next advance within our company.
We are seeking The Very Best Person to impress our clients and fit in with our fun-loving team. You will be working with a family that will help you set and achieve goals in every aspect of your life. We will help you, push you, and pull you across the finish line in whatever you set your mind to do! At Referral, each of our team members holds a unique position of importance where every idea matters and where your teammates will depend on you. You will know and feel that your efforts are appreciated and you will be recognized for the efforts you make. Plus, you will be respected by your clients and held in esteem by your competitors.
As a Technician at Referral, you will enjoy being out in the great outdoors and the fresh air, driving from job site to job site in our shiny new vans, cleaning in the finest homes and businesses around Fort Wayne, IN. There will be no monotony, as no two job sites are the same. There is always something different to do and learn every day. Your goal will be to impress the socks off our clients by giving them the most thorough carpet/tile/wood/upholstery/rug cleaning they have ever seen. Be prepared for clients' jaws to drop, for them to give you hugs, high fives, 5-star reviews and more – trust us, these things happen all the time to our current Technicians! You may be the one person from our company that our client ever meets face to face, so you will have the power to impress each client to become a Customer Cheerleader for life.
TRY THIS: Ask anyone who knows about carpet/tile/wood/upholstery/rug cleaning and they will tell you that Referral Cleaning & Restoration is the finest cleaning company in Fort Wayne, IN. Call our competitors and tell them you have two years experience with us and see how quickly they'll try to snap you up! Referral is the winning team and others will constantly try to recruit you, because they want to know what we will teach you.
REAL TALK: We don't just want you to work for us. We want you to be part of our team, family, and organization. We want to enjoy our time working together. Ultimately, we want to help you achieve whatever your dream might be, even if it has nothing to do with work. Apply and try out for this spot – what have you got to lose?? Let's build a better work environment together as we continually strive to deliver ever better service to our clients!
Responsibilities Include:
Residential & Commercial: Operating Equipment For Cleaning Of: Carpet, Upholstery, Tile/Grout, Oriental Rugs, Wood Floors, And Emergency Water Damage.
Pre & Post Inspection Of Areas To Be Cleaned.
Creating Customer Cheerleaders Through Regular Communication With The Client While Working At Their Home/Business.
Estimating And Sales Using Education-Based Marketing.
Completing Paperwork and Use Of A Tablet To Operate Our Web Based Invoicing/Scheduling/Database Software.
Calculating The Total Invoice, Collecting, Verifying And Handling Funds.
Reading Maps, Navigating To Job Sites And Driving Our Company Vehicles To And From Jobs.
Following Company Policy Including A Dress/Uniform/Personal Appearance Policy.
Learning And Following Our Systems And Procedures.
Maintaining And Repairing Cleaning Equipment.
Maintenance And Cleaning At Our Office Property and Rental Properties.
Ongoing Education Commitment: Referral Has A Library Of Training Manuals, DVDs, Audio CDs, And Trade Magazines That Will Help You Learn Our Industry And Continually Improve Your Skills. Technicians May Also Occasionally Attend Training Classes Outside Of Fort Wayne.
Required Qualifications:
 Enthusiastic / Personable / Positive Thinker / Teachable, With A 'Can Do' Attitude
Clean Cut Appearance A Must
We Provide A Non-Smoking & Non-Vaping Environment
Dependable Transportation With A Valid, Insurable Indiana Drivers License And Safe Driving Record
Excellent English Communication Skills
Basic Math Skills
Ability To Work Flexible Hours and Be On Call Is Critical
Passing a drug test, criminal background report and BMV driving record
The Ideal Candidate Will Possess:
A

Friendly,

Pleasant Personality That Is Enjoyable To Work With
Outstanding Customer Service Skills – Enjoys Working With The Public and Homeowners Are Comfortable With You In Their Home
Positive Attitude, Cooperative, Helpful Disposition

Dependable

,

Honest

,

Trustworthy

Strong Work Ethic

: Desire To Work With Your Hands & Learn A Certified Trade Skill
Eye For Detail, Takes Pride In Workmanship
Interest In Learning New Skills, Quick Learner
Possess Their Own Personal Cell Phone
Tablet/Smartphone Experience A Plus
High School Diploma Or GED
Lives Inside Allen County To Be Able To Respond On Short Notice Because Of Emergency Water Damage
Experience Is Helpful But Not Necessary. We Will Teach You The Industry Specific Skills Of Our Business.
Compensation:
Based on Abilities & Experience.  Earn $25,000 To $40,000 Your First Year.  After completing our training program, you will advance to Assistant Technician, Technician, and Lead Technician.  As your skills increase and you become IICRC certified, you will qualify to receive regular raises.  You can earn more beyond your hourly base pay with our Monthly Performance Bonus.  This Monthly Performance Bonus is based on your production, customer feedback, the accuracy of your paperwork & math, attendance, meeting team goals, your quality of work and the careful handling of our tools and equipment.  Click here to learn other reasons you will enjoy working at Referral.
Benefits:
Paid training, development, and industry certifications – No previous experience required
Monthly Performance Bonuses
Wholesome family/team atmosphere with friendly coworkers, team meetings, and regular social outings
Company paid uniforms and shoes for technicians
Work with the industry's best professional equipment, tools, vehicles and professional office location
Opportunity to advance and build a long-term career with a stable, successful, 40-year old company with an excellent reputation that you can be proud to work for
Employee discounts for cleaning at your personal home
Benefits for Full-Time positions include:

6 paid holidays after 6 months employment
Paid vacation- 1 week after 1 year and 2 weeks after 3 years
Health Insurance – Referral pays 50% up to $200/month towards health insurance premium after 6 months employment.  After one year, Referral pays 100% up to $200.  During your fourth year, Referral pays 100% up to $250.  During your sixth year, Referral pays 100% up to $300.
A Simple IRA offered during your third consecutive calendar year of employment. Contribute up to 3% of your paycheck and Referral will match your contribution.
---
I'm Very Interested In Working For Referral. What Do I Do Now?
Get to know us by exploring our website to learn more about the

services

we offer, our

company history

, meet our

team members

 and watch

video testimonials

from our 'Customer cheerleaders' on our

YouTube Channel

to see what they say about Referral.
We HIGHLY RECOMMEND you watch this 3-minute video about being a Technician at Referral BEFORE you apply: Watch The Video Here!

APPLY ONLINE HERE!

Call 260-255-5389 and leave a 60-second message about why you think we should hire you.  This phone line is set up just for this purpose so a live person won't answer, you will reach a voicemail.
We will review your application and if you meet the initial requirements of this position, we will contact you to set up an initial interview where you will provide references and complete a math and map skills test.   Our office is located at 2901 Parnell Ave, Fort Wayne, IN 46805.  Click here for directions.
If you pass the initial interview, the General Manager will contact you to set up a second interview.
Before the final hiring decision is made, we will contact your references.
Before the final hiring decision is made, you will need to:

Pass a criminal background check
Pass a BMV driving history
Pass a drug test.
---
Thank you for your interest in a position at Referral Cleaning & Restoration. We hope to hear from you soon!