Reasons To Trust Referral For Allergy Relief
---
 Proper Carpet/Fabric Cleaning Method
Some people believe that if the carpet is steam cleaned or the hot water extraction method is used, mold and mildew will grow in the carpet causing allergies.  Therefore they choose a drycleaning method which is not as effective.  Carpet manufactures require the hot water extraction cleaning method to maintain warranties because it is the best system, IF it is done properly because it rinses and extracts the pollutants from your carpet. Many cleaning companies have a reputation of leaving the carpet saturated. You can trust Referral because of our equipment, maintenance, and cleaning technique.
Proper Truckmount Equipment & Maintenance
Referral uses powerful truckmounted equipment that exhaust the  air along with the odors, dust and humidity outside so you don't have to worry about dust being blown through or stirred up inside your home.   Some companies bring a portable machine inside your home while cleaning which exhausts the air being extracted inside your home.
Our direct drive PTO truckmount is also capable of producing hot water and strong vacuum power.
The pressure of cleaning solution is appropriate to not overwet your carpet/fabric.
We change our inline vacuum filters after every job to ensure we have the best airflow for extraction so that we leave your carpet/fabric as dry as possible.
We do NOT recycle our cleaning solution or water. There are 2 separate individual tanks, one for the fresh water and one for the waste water.
We clean our equipment and tools regularly so you don't have to worry about cross contamination between other people's homes.
Proper Cleaning Technique & Fast Drying
Even with the right equipment and proper maintenance an improper cleaning technique can result in a poor job.  The care and concern the technician gives the work has a huge impact.  Referral's technicians have a reputation of through quality work which is demonstrated in the way that we clean.  We do not overwet the carpet while cleaning by constantly holding the spray trigger down.  When finished with a row we do an extra dry vacuum only stroke.  When we finish cleaning an area we set up fans to help them dry quickly.  Review the following comments from Fort Wayne Residents that use Referral for cleaning:
Mrs. Tyler – "There is no worry about wetness. Previously we used a dry cleaner because we were worried about over wetting carpets and padding. Referral left our carpets looking beautiful and almost dry."
Mrs. Phillips – "The other cleaners also left my carpet soaked and it took days to dry."
Rachel – "The carpet doesn't feel saturated after cleaning. The carpets are thoroughly clean and dry in a few hours."
Mr. & Mrs. Critchfield – "Fans were used to hasten drying. This was superior to any other company we have used in the past. Keep doing what you are doing!"
Safe Cleaning Products
Referral's cleaning solutions are safe and effective for you, your children, your pets and the environment.  There is no strong odor or hazards in the products we use.  All of our cleaning products are non-toxic, dye and perfume free, contain no volatile organic compounds (VOC's), phosphates or other hazardous materials and are all biodegradable and environmentally safe.  Review our FAQ's if you have severe sensitivities. 
Specialized Allergy Treatment Products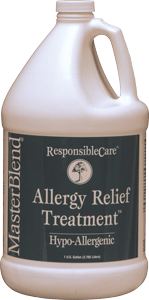 After a thorough cleaning, Referral can apply a Allergy Relief Treatment which has been proven effective in denaturing the protein allergens from dust mite droppings (Der p1 and Der f1), cockroach droppings (Bla g1), dog dander (Can f1), and cat saliva (Fel d1). Allergy Relief Treatment is a water-based solution that contains a powerful active ingredient derived from naturally occurring extracts found in certain fruit and vegetable seeds. It works by denaturing the structure of the allergen, and thus, substantially reducing the Ige antibody-binding capacity of the allergen. As a result, they are no longer "recognized" by the body's immune system, alleviating the body's allergic response (allergy attack). Provides a residual effect for up to six months, when properly applied. The treatment is safe for you, your children, your pets and the environment. It is hypoallergenic, non-toxic, virtually odor free and readily biodegradable. It is specially formulated for use around people with allergic illnesses and chemical sensitivities. Does not contain pesticides, perfumes, harmful solvents, or other hazardous ingredients.
Customer Satisfaction
Review the following comments from Fort Wayne Residents after Referral cleaned for them.
Our children have allergies and your method of cleaning does not bother their skin.  We appreciate that!  Mr. & Mrs. Slosson
I have severe asthma to the point that I am unable to even clean my own bathroom because of the fumes from the cleaning products.  Therefore I was concerned about having our carpets cleaned.  Referral Cleaning & Restoration restored our carpets at our office and I was very surprised that the cleaning solutions do not include harsh chemicals.  I was present during the majority of the cleaning and I suffered no ill effects.  As a matter of fact, by having the carpet cleaned my asthma related issues at the office have been very few and far between.  Many thanks to you!  –  Ms. Wilkinson
I have tried several companies and there is no comparison to the quality of work performed by Referral Cleaning & Restoration.  Their professionalism both on the phone and in the home was outstanding.  They were very prompt with scheduling as well as arrival on the day of service.  The young men who performed the cleaning services were very professional in appearance and extremely polite.  They were very careful not to leave the carpet too moist which is so very important in a home where persons with allergies and asthma reside.  My carpets dried very quickly and looked absolutely beautiful when the cleaning was completed.  They are very knowledgeable regarding stain removal and provide customers with printed information following the cleaning process.  I have recommended this company to other people I know and those I work with.  –  Mrs. McCleskey
Before buying new carpet have Referral Cleaning & Restroation clean your old ones. If they can't get it clean, it probably needs to be replaced. I was also impressed because we have allergy problems. My daughter in law has asthma and said that this is the first time she has visited and not had to use an inhaler because of our dog. Referral takes the time to do a good job. They also pay attention to small details like protecting hardwood and furniture. Referral spent at least 3 times the amount of time in cleaning my carpets as previous companies we have used. – Mrs. Crose
Improve Your Indoor Air Quality and Reduce Allergens with Referral's cleaning services.  We will leave your home clean, healthy and comfortable. Contact us at 260-483-4383