How Often Should I Get My Carpet Professionally Cleaned?
---
Carpet manufacturers recommend carpet cleaning every 12 – 18 months.  
You may need your carpet cleaned more often if:
You have kids and/or pets in your home
Your shoes are worn on the carpet
Your family has allergies
Cigarette smoking takes place within your home
Your carpet should be cleaned BEFORE it looks unsightly.  If your carpet already looks dirty, you may have waited too long.  Over time, abrasive dirt can permanently wear a carpet fiber, leaving worn traffic areas that may not respond 100% to cleaning.  Consider cleaning high-traffic areas more often to prevent heavily soiling.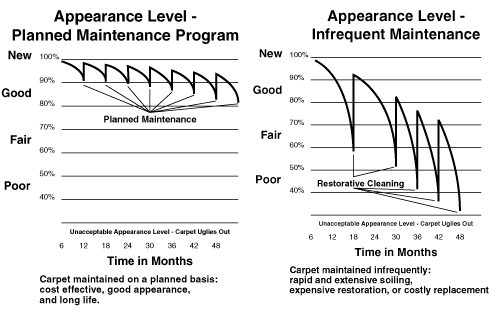 ---
The following chart from the IICRC S100 Standard and Reference Guide for Professional Carpet Cleaning serves as a guideline for recommending cleaning frequencies for carpet. The IICRC considers traffic, soil rating, vacuuming schedules, spot cleaning schedules, and professional interim and restorative cleaning.